Kelly Smith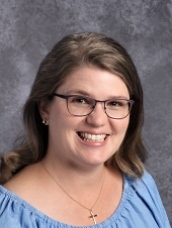 Kelly Smith
4th Grade Teacher
Phone: 205-824-7886
Groups: Fourth Grade Team
Kelly Smith is the Director of Curriculum and Instruction bringing to the job 16 years experience as a classroom teacher. She is a graduate of Ohio University's Early Childhood Education program, Pre-K through 8th grade, and holds a Master's in Reading Instruction from State University of West Georgia. She is also certified as a Highly Qualified teacher in the field of education and a one time "teacher of the year" recipient while teaching in the public schools.
In her current position, Kelly brings together her keen understanding of students' learning styles, their need for good, data-driven instruction, and their desire to become independent learners with the challenging curriculum available at Prince of Peace. Her experience as the former Formation Board Chair, which leads the school in its academic endeavors, prepared Kelly to partner with teachers to maintain high standards while continuing to educate the whole child spiritually, emotionally, physically, and psychologically.
Although Kelly enjoys the rigor of her detail-oriented position, her gentle nature is always present in the halls and at Prince of Peace Church where she has served as a volunteer Catechism and Vacation Bible School instructor over the years.